COVID-19 Relaunch
St. Paul's Relaunch
A Message from SPBC Relaunch Taskforce
Greetings St. Paul's and Joy!
It has been several weeks since the completion of the Relaunch Task Force first survey. We thank you for your participation. The goal of the 1st survey was to provide us with a general idea of your thoughts about reopening our church building. The results were posted on the Relaunch Task Force webpage at www.stpaulsbaptist.org/covid-19-relaunch.
Although our church building remains closed, we are planning for the day when it will be safe for us to physically return. To that end, we need your help again. We want to hear from you via a 2nd survey. The purpose of this survey is to hear how you are experiencing virtual church, your expectations, and specific anonymous information about you. This information will be used to inform us as to what services are needed during this pandemic, as well as, what will be needed upon reopening. As we continue to plan for a safe and sustainable building reopening, we want to assess your thoughts, opinions, and feelings. The best way to achieve this goal is via surveys. We ask for your patience and compliance to ensure that your voice is heard.
Below is the link for the Relaunch Task Force survey #2. The deadline is Friday July 24, 2020.
https://www.surveymonkey.com/r/RVNL7CL
Thank you in advance. May the Lord be with you.
Dr. Lisa Croft- Chair Relaunch Task Force
SPBC Relaunch Taskforce Letter Archives
St. Paul's Baptist Church Relaunch Survey 2









        
(Click here to view/download a pdf file of the survey results.)
---
Results of Survey 1- Based on responses from 6/8/20 – 6/22/20
Thank you for those who participated in this survey. Your time and effort are appreciated. The purpose of Survey 1 was to get a feel of our congregation's mindset regarding returning to church in the midst of the COVID-19 pandemic and tithing online. This is just the first of a few surveys that we will administer to try to better understand how we can best serve and meet the needs of our members during this unprecedented time.
There were 112 respondents to the survey and the following are the results of the questions. Any comments or text responses to these questions are in the process of being analyzed.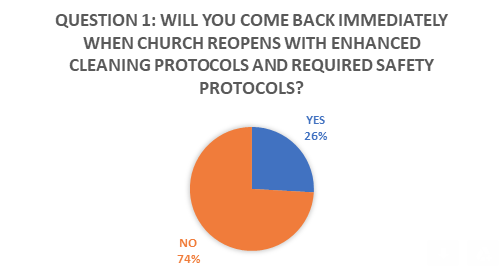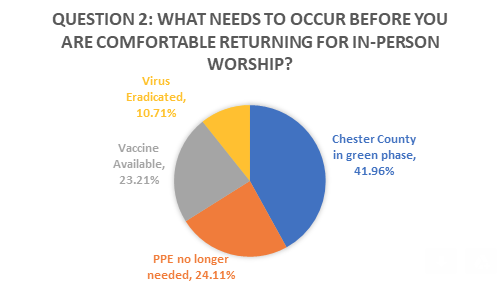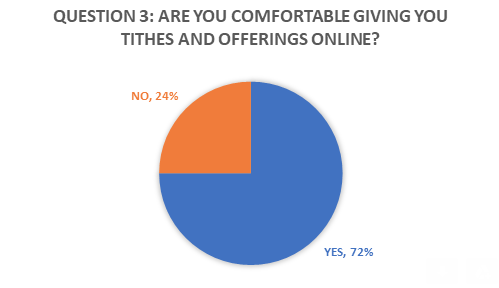 Frequently Asked Questions
St. Paul's Baptist Church West Chester, PA Relaunch Task Force
Disclaimer: Answers to these questions are as of July 27, 2020 and may change due to C.D.C. recommendations, state and county guidelines as well as current health mandates.
Reopening
Q:  What's the date when St. Paul's building will re-open?
A:  Currently, a re-opening date has not been determined.  We are closely following the health care data, state recommendations as well as listening to you.  
Q:  Is there a plan to open the church's parking lot to have service in cars?
A:  No. The church parking lot would not be logistically feasible to hold a service.
Live Streaming
Q:  What is Live Streaming and when will it start?
A:  We will start transitioning to 'live streaming' beginning with our Sunday services in August. This means we will simultaneously record and broadcast our Worship Services in real time via our web site, Facebook and YouTube. After the service, we will be able to meet via Zoom to see and fellowship with each other.
Zoom
Q:  Will Youth Church, Bible Study and other forms of meetings still take place on Zoom once the building re-opens?
A:  Yes. We will continue using Zoom for Sunday Youth Church and Wednesday Bible Study. Our ministries can continue using Zoom for their meetings (e.g. Joint Board, Unified Council, Men's Fellowship, Women's Fellowship, Marriage Ministry, etc.).
Prayer Meetings
Q:  Will Monday Morning prayer and Kairos 316 continue when the church building re-opens?
A:  Yes. Pastor's Monday Morning Prayer at 7:00 a.m. and Kairos 316 at 1:00 pm Monday through Friday will continue.
Temperature Screening & Questionnaire
Q:  How and who will be asking the general pre-screening questions and taking temperatures?
A:  Prior to entering the church, each person will need to answer pre-screening questions and have their temperature taken by a trained volunteer. The volunteer(s) will be trained and supervised by the Health and Wellness Ministry and wearing Personal Protective Equipment.
Q: How will my information be kept confidential?
A:  Your information will be provided to you individually and in a confidential manner.
Q:  Will special arrangements be made for individuals with high-risk conditions?
A:  No. There will not be special arrangements made for individuals with high-risk conditions. If you have a high-risk condition, we strongly recommend that you stay home so that you don't put yourself and others at risk.
Music
Q:  What kind of music will be provided during worship?
A:  We will be providing music during worship by using soloists, a small praise team, and instrumentalists, following the Centers for Disease Control (C.D.C.) guidelines. The guidelines recommend that churches not implement choral and congregational singing because that spreads droplets that may carry the virus.
The Church's Social Distancing Plan
Q:  How many people can fit in the sanctuary if we are practicing social distancing?
A:  If we practice social distancing the sanctuary can accommodate approximately 225 people. However, this number may change depending on the number of family units and individuals in attendance.
Q:  How many people can fit in the Fellowship Hall if we are practicing social distancing?
A:  The Fellowship Hall can accommodate approximately 220 people. However, this number may change depending on the number of family units and individuals in attendance.
Q:  Will other areas in the building be opened or closed?
A:  We will be limiting all movement in the building. Only the main floor bathrooms will be opened. The second and third floors, along with the Kitchen, Library and Nursery will be closed. The elevator will also not be available for use.
Community Outreach
Q:  How are we supporting the community by doing outreach during this time and meeting any needs they may have?
A:  We are continuing to minister to the community with efforts that started before the pandemic. We are still contributing to the West Chester Food Cupboard. We have supported other churches in peaceful protests for social justice. Men's Fellowship are providing community assistance when notified by the office. The complimentary masks made by the Women's Quilting Circle were given to members as well as community members.
Finance
Q:  How much money have we lost due to the pandemic?
A:   Tithes and offerings are down approximately 13% and so are our expenses. Our cash flow position is solid.
Q:  How do I secure a receipt when I mail my check into the office?
A:  Your check serves as your receipt. If you need a receipt when you mail your check to the church, please call or email the church office to request one. The office number for our Church Bookkeeper is 610 692-2446 ext. 160. Her email address is
Q:  Should we be involved with Black Lives Matter?  Do they have any political affiliation?
A:  Black Lives Matter has a nationwide foundation centered on social justice and our social justice initiative is supportive of that cause. No, they do not have a political affiliation.
Q:  If someone needs help with paying their bills or their rent, etc., what should they do?
A:  They should contact their Deacon.
Congregational Care
Q:  How are we keeping in touch with our sick and shut-in? Do we know who they are during this pandemic so we can call and send them cards since there is no longer a bulletin or list of them anywhere?
A:  If you are ill or need assistance, please notify your Deacon. If you know of someone who is sick and/or shut-in, let your Deacon know or contact the church office. The Deaconesses, Women's Ministry and Visitors' Ministry all send cards to our sick and shut-in.
COVID-19 Information
Q:  Where can I find information about my specific location?
A:  You can access the Relaunch web site for links for Pennsylvania, Delaware, and New Jersey. You can also contact your local health department for this information as well.
Q:  Should I wear my mask outside?
A:  Yes. You should wear a mask outside. Please check the Relaunch web site for further information about the requirements for your state.
Disclaimer: Answers to these questions are as of July 27, 2020 and may change due to C.D.C. recommendations, state and county guidelines as well as current health mandates.