New Here
Welcome!
We are thrilled that you stopped by today!
Here you will find helpful information whether you are planning to visit, or are interested in becoming a member of St. Paul's. In either case, we hope to see you soon! 
If you would like to keep in touch with us, you can connect with us on Facebook, Instagram, Twitter, or you can contact us via email at or by phone at 610-692-2446 ext. 140.  
We gather on a weekly basis, as follows:
Join us on Sundays
Youth Church @ 9:30 AM (Youth Church is held on 2nd, 3rd, and 4th Sundays.)
Livestream Worship Service @ 10:45 AM
Meet & Greet @ 11:45 AM
Adult Sunday School @ 12:00 PM
Let's Talk @ 3:00 PM (2nd and 3rd Sundays)
Join us on Mondays
Morning Prayer Call with Pastor Croft @ 7:00 AM
Join us Monday – Friday
Prayer Line @ 1:00 PM
Join us on Wednesdays
Bible Study @ 6:00 PM
Our Location
St. Paul's Baptist Church gathers together in a three-story building located at One Hagerty Boulevard, West Chester, PA 19382. We are near the intersection of Route 202 and South Matlack Street in West Chester.  Click the map for directions.
Our building houses over 500 seats for worship services, and offers a fellowship hall that can seat 400, with a fully equipped commercial kitchen. The multi-level building also includes several classrooms, offices, conference rooms, additional kitchen facilities, a computer lab, and a nursery.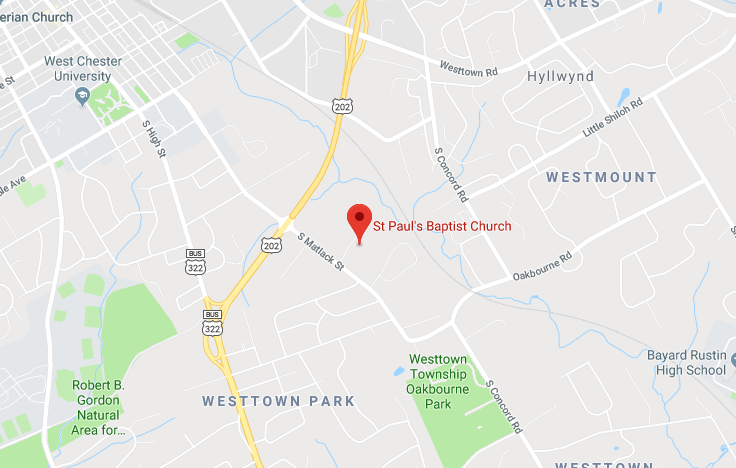 ---
Entering the Building
There are three entrances you can use to enter the building. 
Main Entrance
Has a covered carport and wheelchair or scooter accessible ramps.  It is also near designated accessible parking spots. 
Elevator Lobby Entrance
Located a few steps away from the Main entrance and is next to the designated accessible parking spots.  It is also a convenient entrance for those who park behind the building.  Just use the small walkway to walk through the gate to the parking lot in the back.
Side Entrance
Has a wheelchair accessible ramp as well as an automatic wheelchair accessible door.  There are a few designated accessible parking spots at this Side entrance as well.
Please note that after 11:30 am on Sundays, only the main entrance will be open to enter the building.
---
Restrooms
There is a women's restroom and a men's restroom located in the hallway that is to your right when the Main Entrance of the church.  The restrooms are in the hallway on the right.
There are two gender neutral, single occupant restrooms near the Side Entrance.  When entering the building, turn right and they will be on your right-hand side.
---
Parking
When you visit, there is parking available in our church parking lot in front of the church. However, you can use the second driveway to find parking on the side and back of the church. You may also park on the street in designated places. 
We offer accessible parking spots in the front and in the back of the church.